Reservations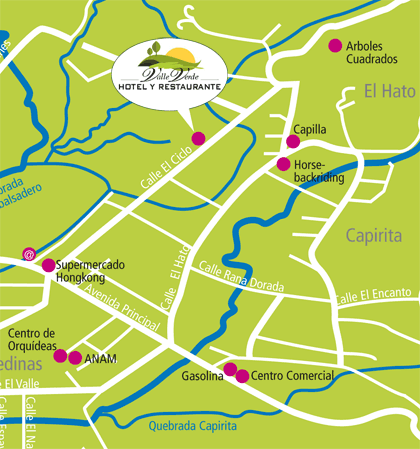 Where to find us: Coming from Panama City you take the Interamericana, and 10 km after passing Coronado you will see the entrance to El Valle de Antón on the right. If you arrive in El Valle follow the main road until the Supermarket Hong Kong. There you will find a sign for the hotel. Turn right and after ca. 500 m you will be there.
from the international airport, the easiest way to get to el valle would be hiring a taxi driver, which cost you $150.00 this price is good up to 4 people.
you can also go to albrook bus terminal and look for the office which sells the tickets for el valle de anton , needs to have the entire name of el valle de anton because is other with the name of anton and this one goes somewhere else.
Our phone numbers to contact us:
Tel.: (+507) 983-6080
Fax: (+507) 983-6505
Cel.: (+507) 6471-8250
E-mail:
Please use the form for your booking inquiries.